DIY Fall Wreath with Yarn
4 min read
This post and photos may contain Amazon or other affiliate links. If you purchase something through any link, I may receive a small commission at no extra charge to you. Any supplies used may be given to me free of charge, however, all projects and opinions are my own.
This DIY fall wreath is so unique and it will look amazing on your front door. Last week I shared a simple fall wreath, but this version is a bit more complicated. So, if you have a bit of time to create something magical, this is the project for you. This is a great beginner's project for arm knitting as well. Learn to knit and make a gorgeous wreath – all at the same time!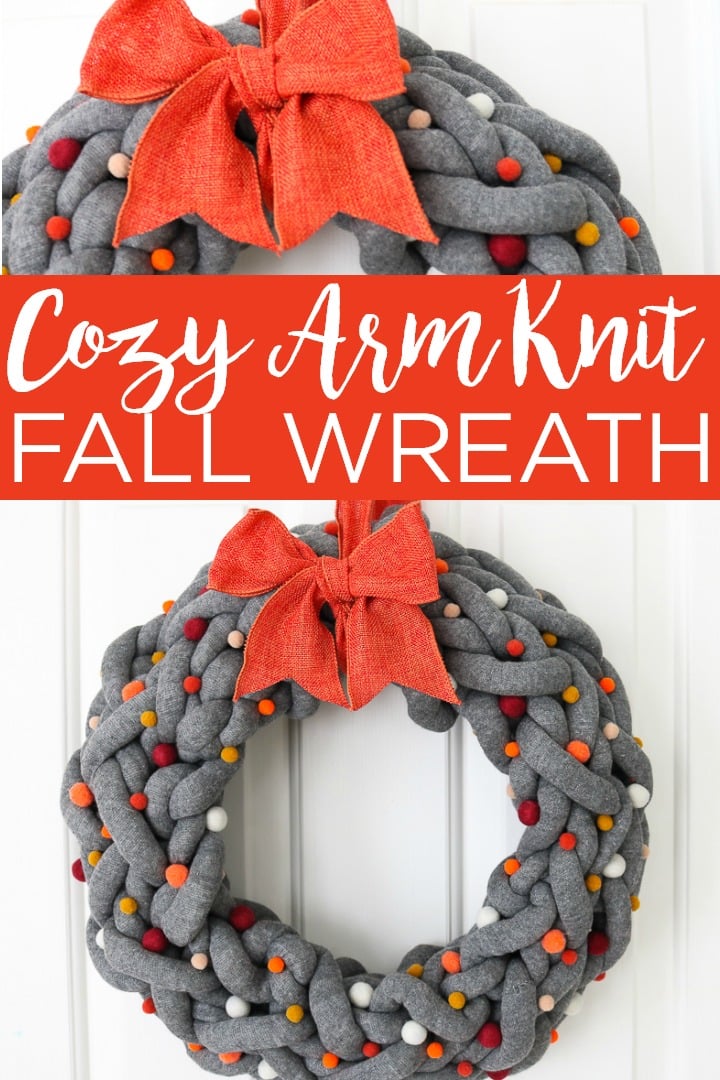 Supplies to make this DIY fall wreath:
Giant Chunky Yarn (this brand worked well for me)
Burlap Ribbon (I used orange)
Wire Wreath Form (in any size you wish)
Pom Poms or Wool Balls in a variety of colors
Hot Glue and Glue Gun
Arm Knitting a Wreath
First, we will begin our first row of arm knitting with a knot. Pull out about a 3-foot piece from your yarn. Drape this over your hand. There should be three feet on one side and the yarn should be attached to your skein on the other.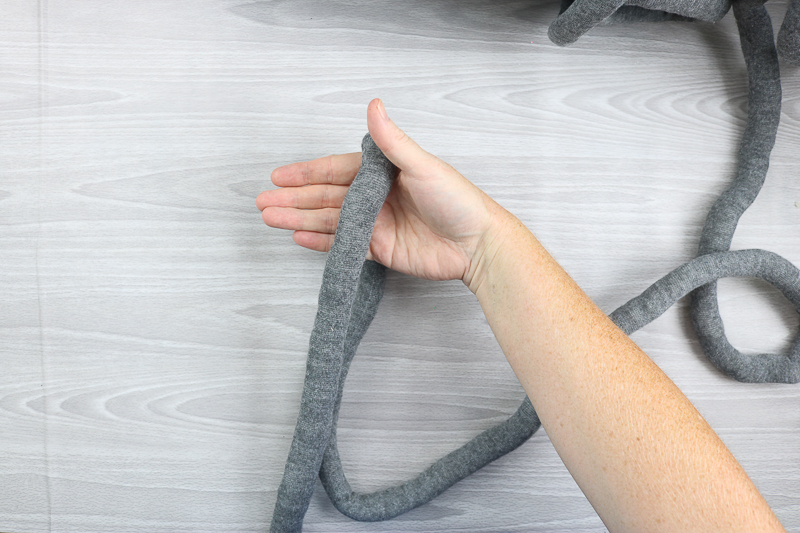 Pinch the yarn with your other hand as shown below.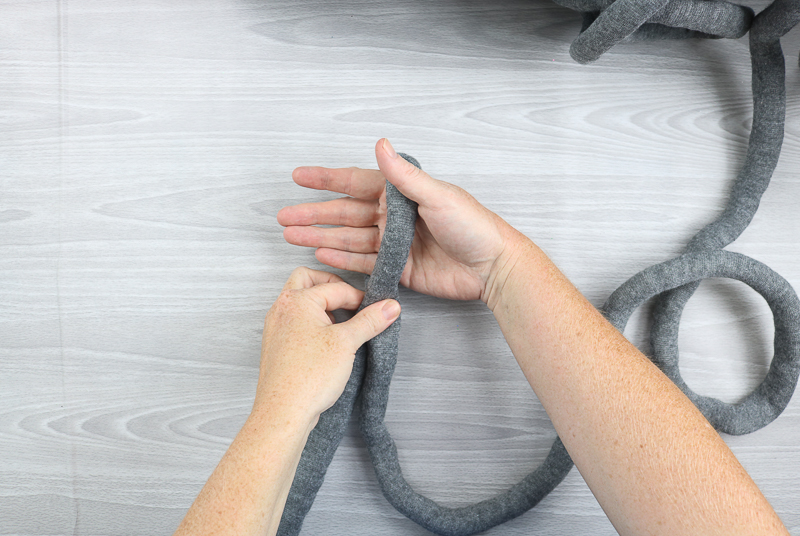 Twist and grab the yarn that is attached to your skein.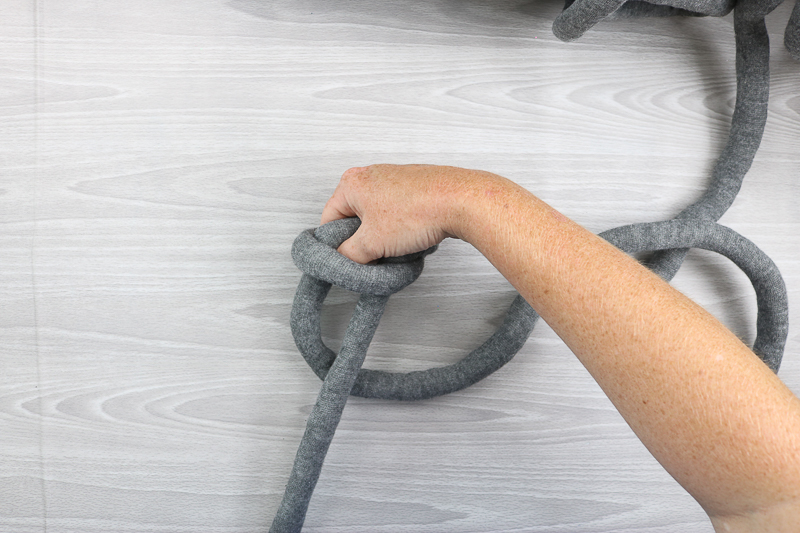 Pull through and now you have a slip knot.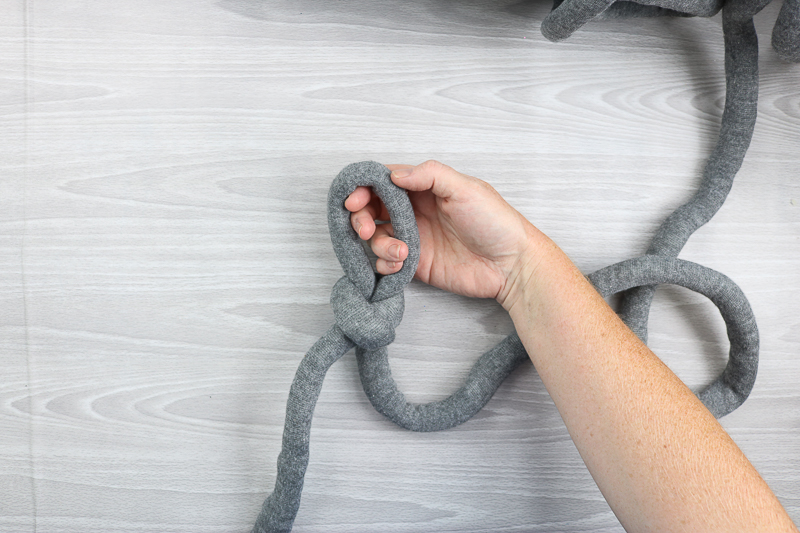 Now that your first knot is complete, thread it onto your arm. You can tighten this if needed.
Now we will begin to add the stitches that will become our first row. You will need to hold the yarn properly for each stitch. Hold the yarn attached to your skein with your index and middle finger as shown below. Then grab the end with your other two fingers.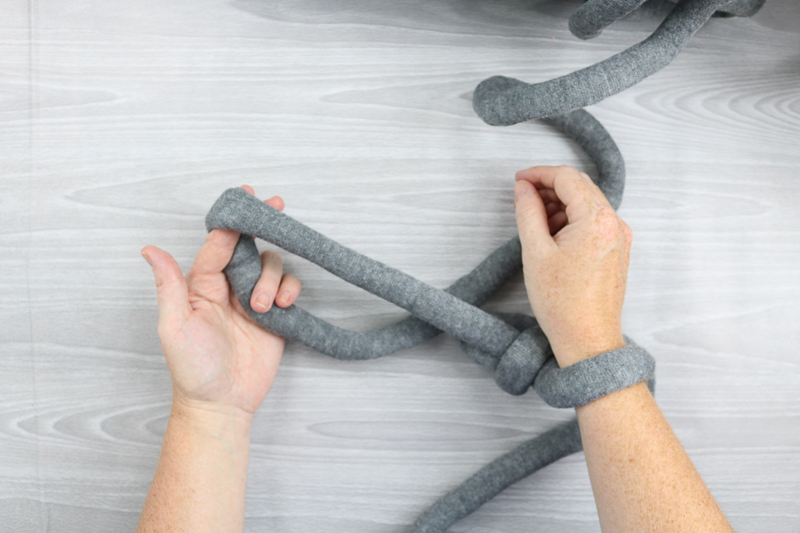 Put the 3-foot tail of yarn around your thumb as shown below. The pinky and ring finger will be holding both of the pieces.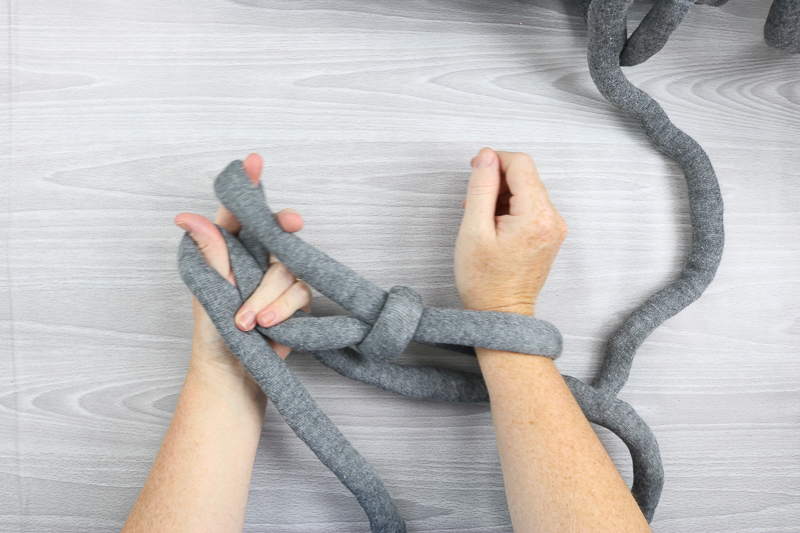 Take your index finger on the opposite hand. Go under the first strand, over the second, and grab the third. Pull it through to create another stitch.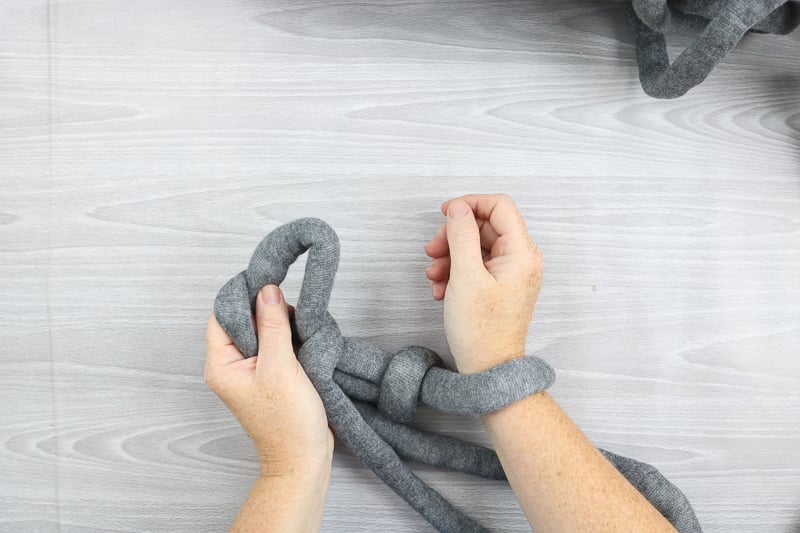 Add this to your arm as well. Repeat as many times as you would like. I did 5 stitches across for my wreath. You could do more or fewer to make the wreath itself wider or narrower.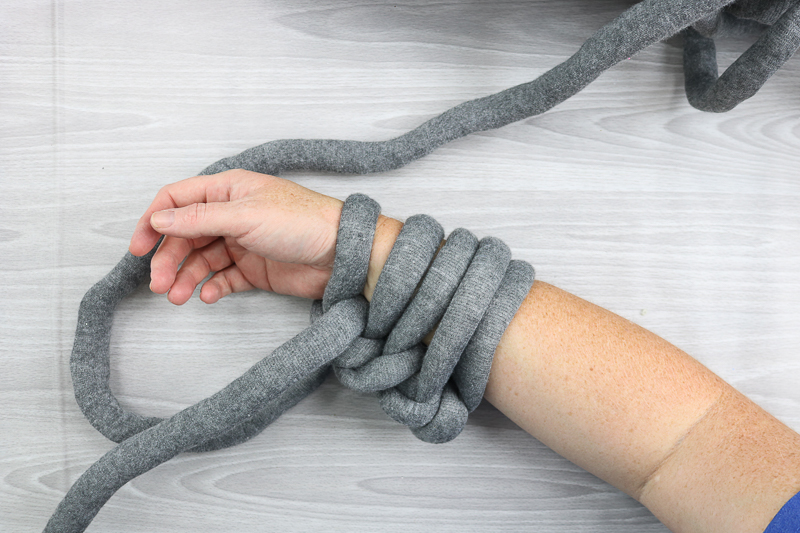 You will not need the tail end of the yarn any longer. From now on, work only with the piece connected to the skein of yarn. Grab that piece with the hand that has the loops.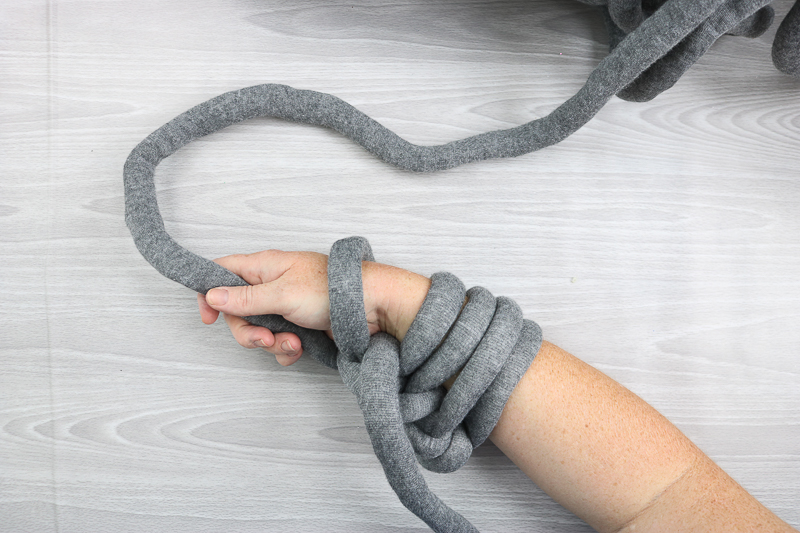 Pull it through the first loop, turn it towards yourself, and slip it on the opposite hand. Tighten the stitches as you go. You should get them as tight as possible. Guess what? You are now arm knitting!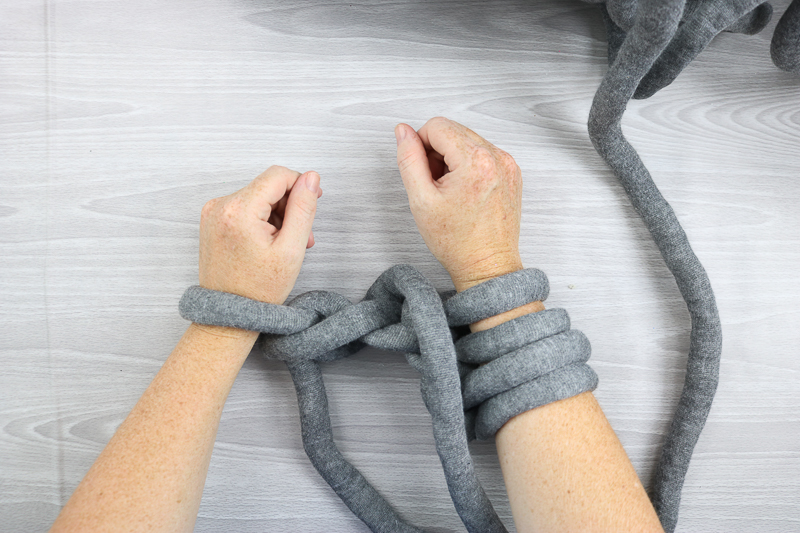 Repeat the same process above and move the stitches over to your other arm. Work until they are all moved. Now you have completed your first row. Congrats! But, we have a few more to go to complete this DIY fall wreath.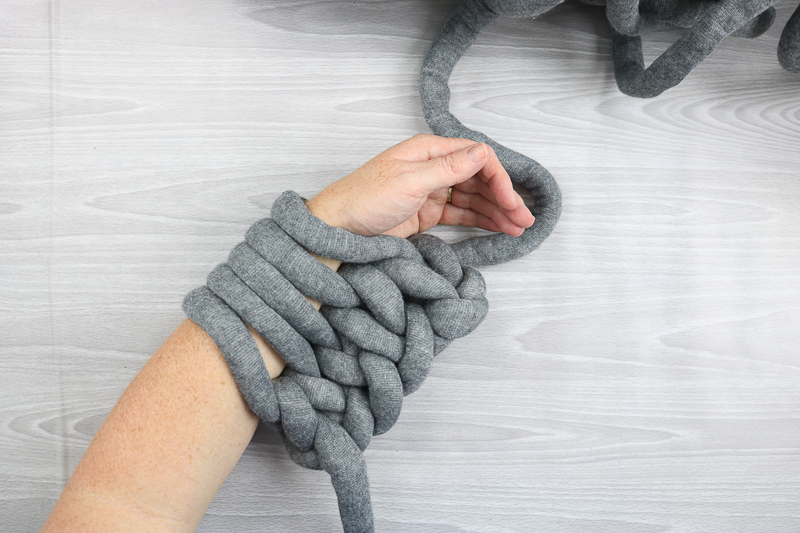 Repeat these same steps moving the stitches to alternating arms as you go along.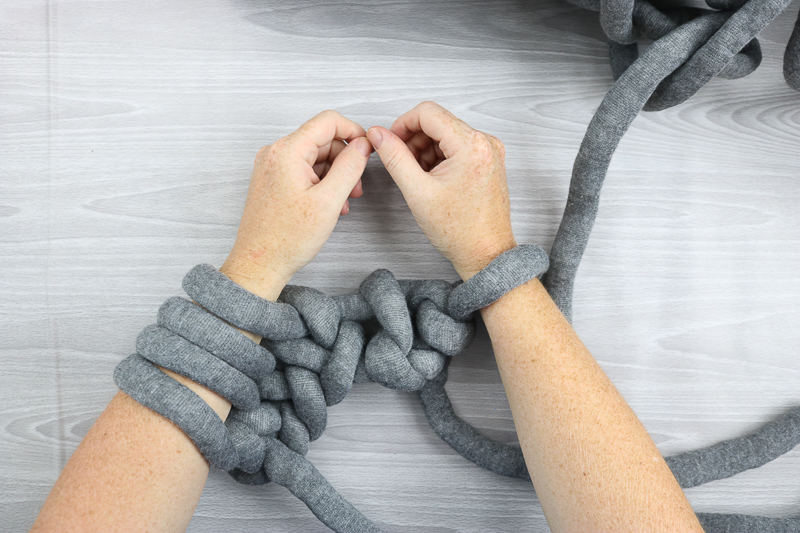 Repeat as many times as it takes to get your piece long enough to go all the way around your wreath form.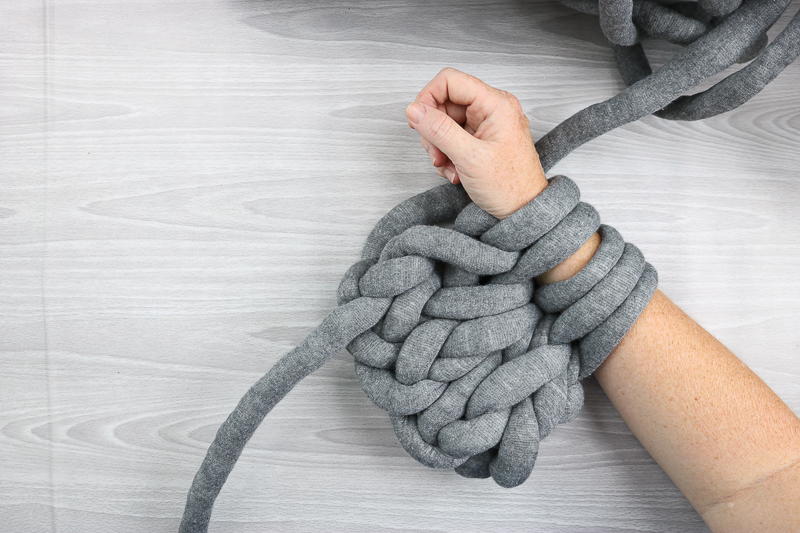 The form should not be super tight when you wrap it but not too loose either. Once you think you have enough, it is time to tie off your project.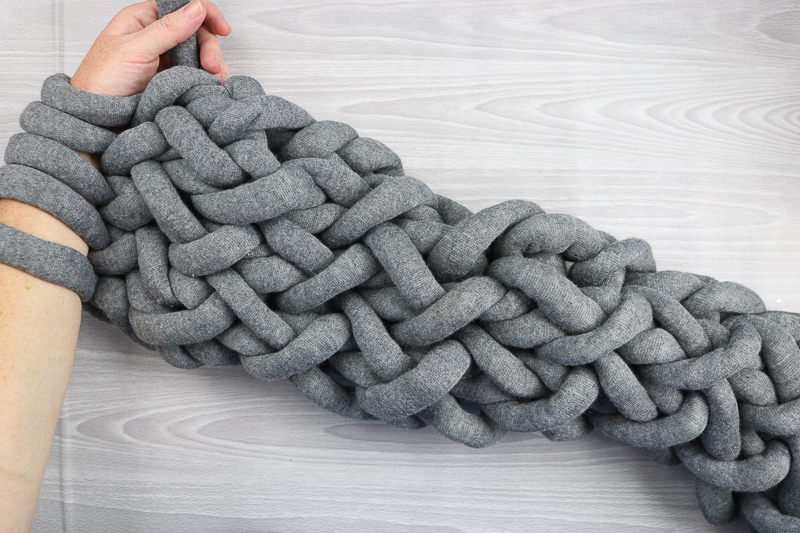 Complete two stitches on the row just like the instructions above.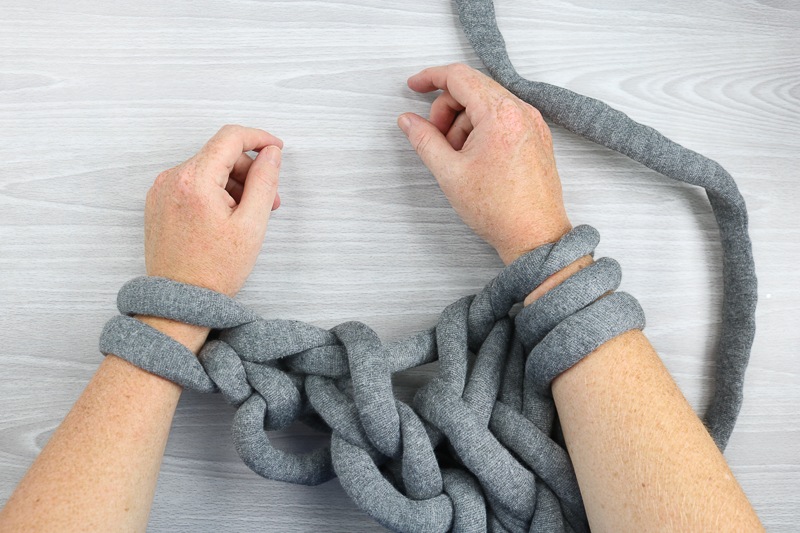 Pull the first stitch over the second and then tighten. Do not over tighten here as your end can get super small.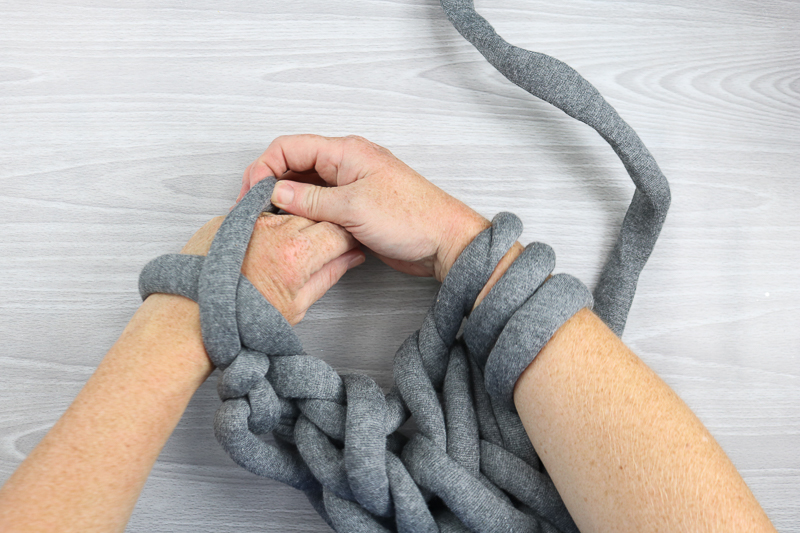 You will want to continue in this same manner for all of your stitches.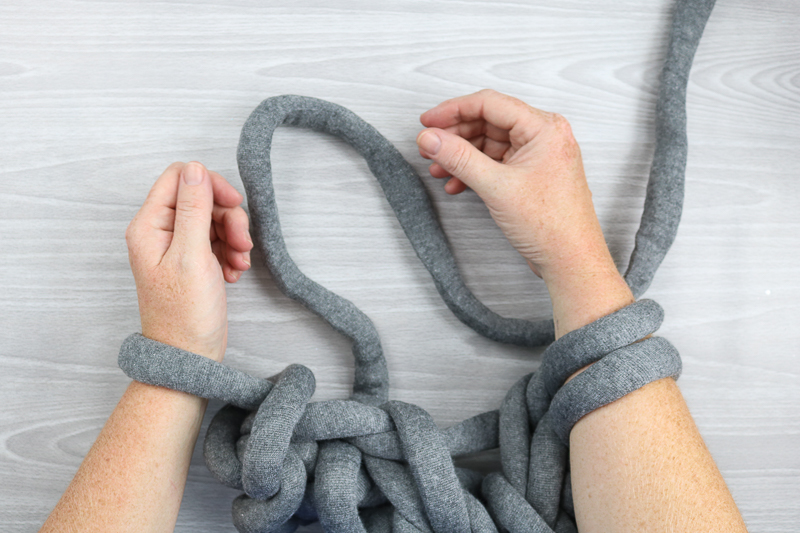 Now you are left with one stitch left on your arm. Cut the strand attached to your skein about a foot and a half away from your project.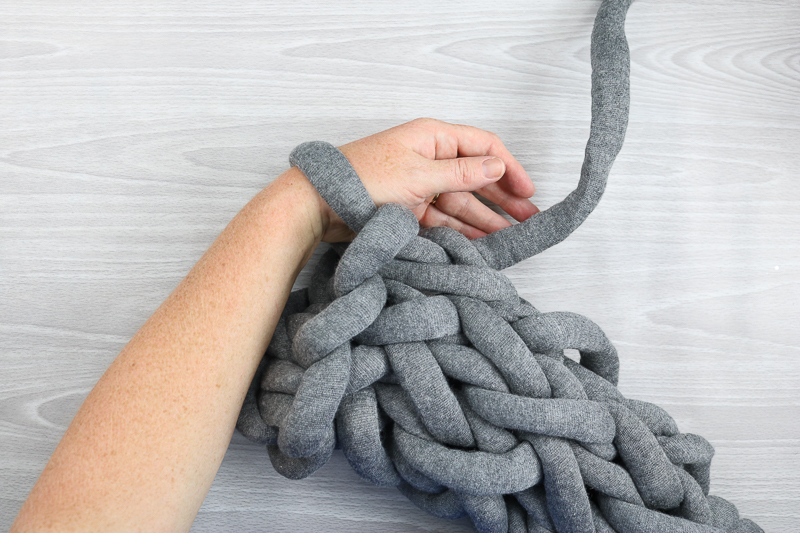 Pull that end through the last stitch.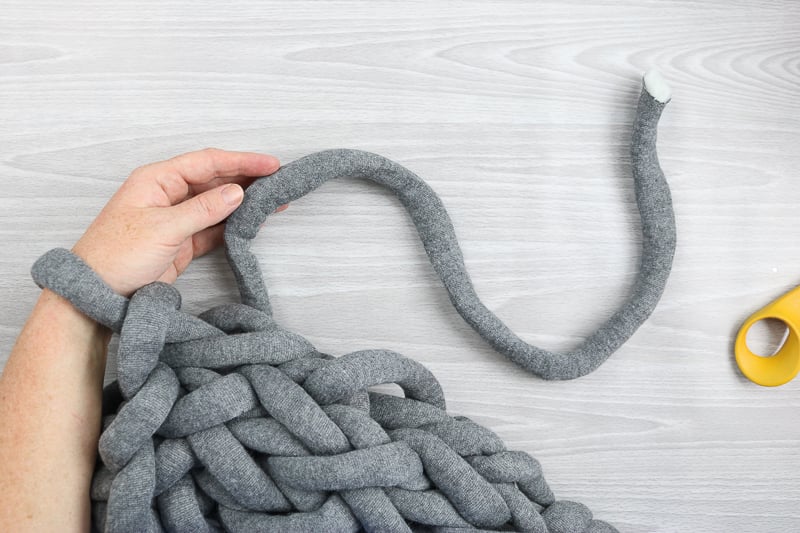 Then pull it until it is tight.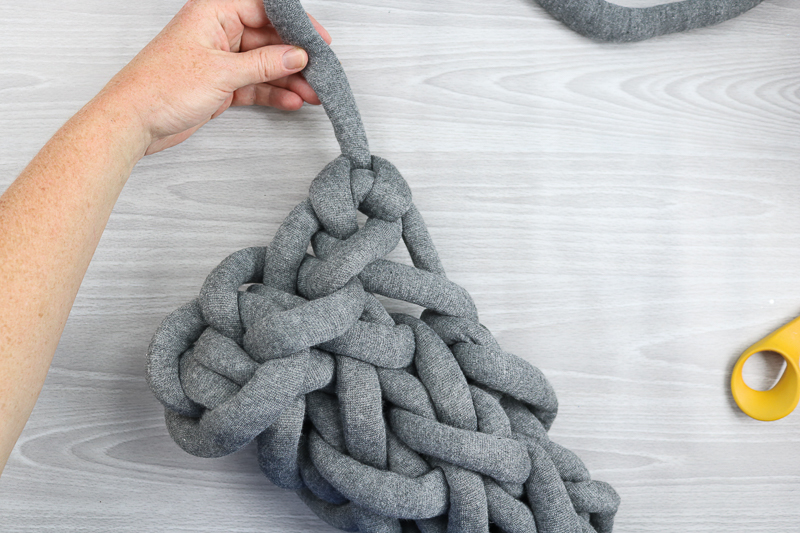 Now we have one long piece but we need a circle to go around the wreath form. Next, we will secure the two ends together.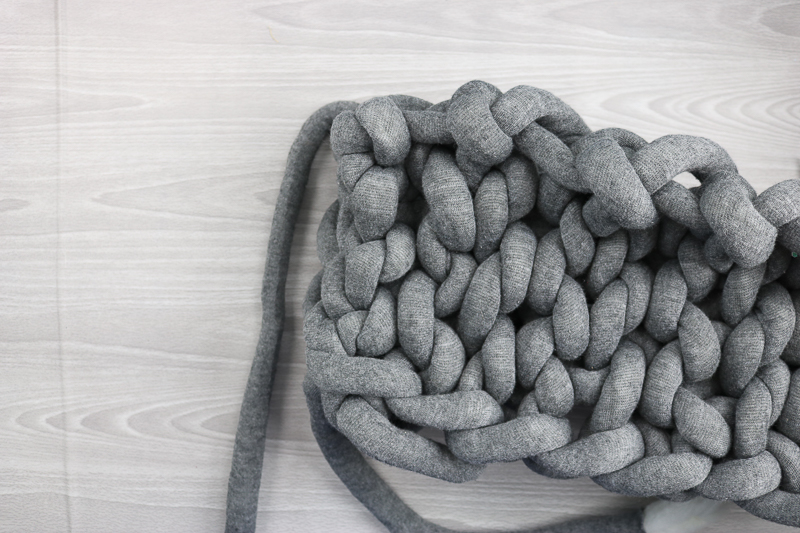 Put the two ends together. Then use that piece that you cut a foot and half long to bind the two together.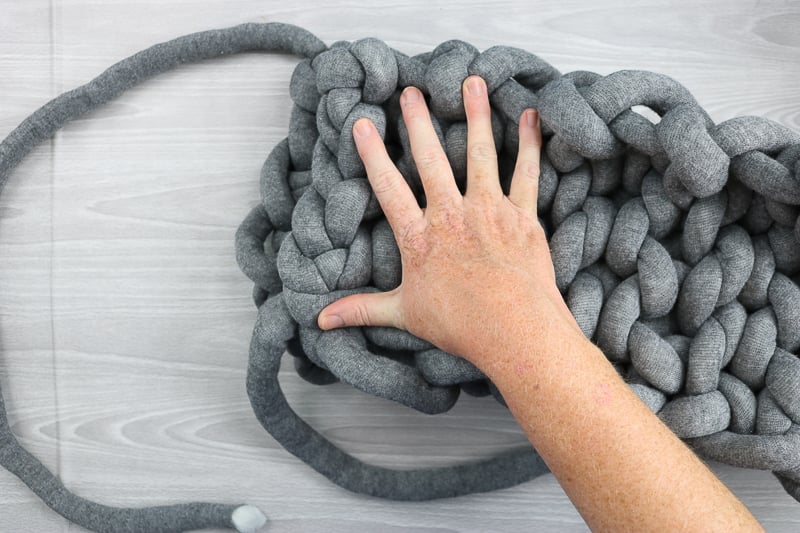 Put it through both pieces weaving it in and out until you get to the other side of the knitted piece.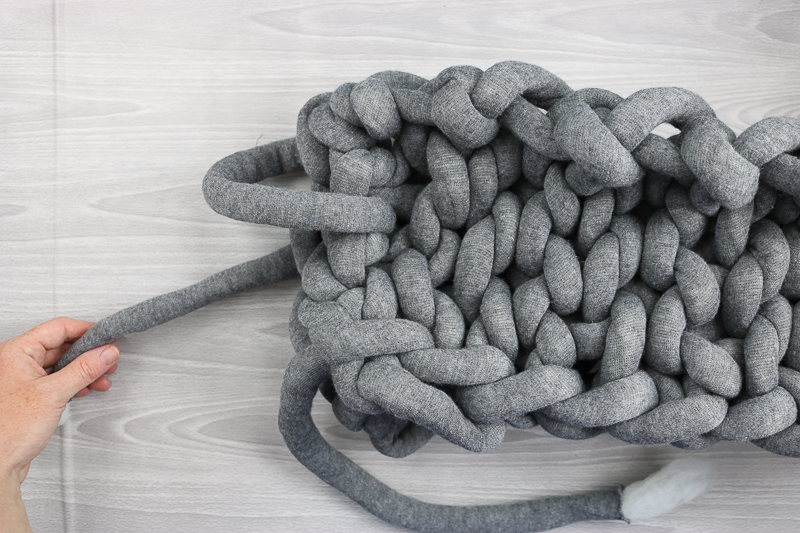 Once you get to the other side, make a loop with the yarn and pull the end through to make a knot. You can double this knot if you would like.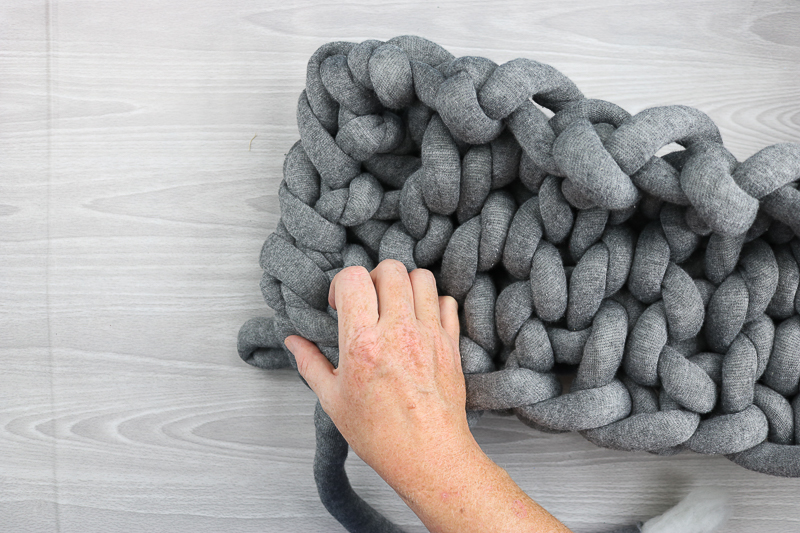 Then, all that is left is to hide both ends. You can cut some off to make them shorter. Then weave them throughout your piece to hide.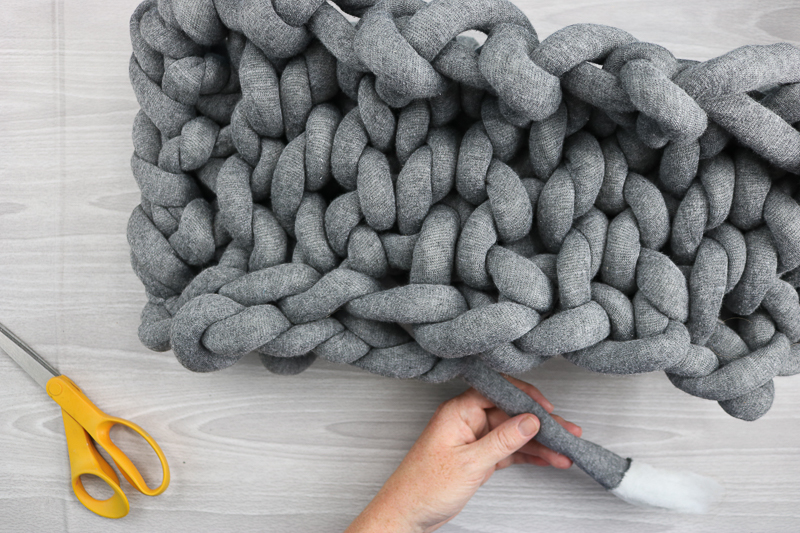 Completing Your Autumn Wreath
Turn your knitted piece so that it is a formed circle. I found that mine naturally made this shape. Then I just put the wreath form inside the piece. Maneuver the piece until the wreath form is hidden.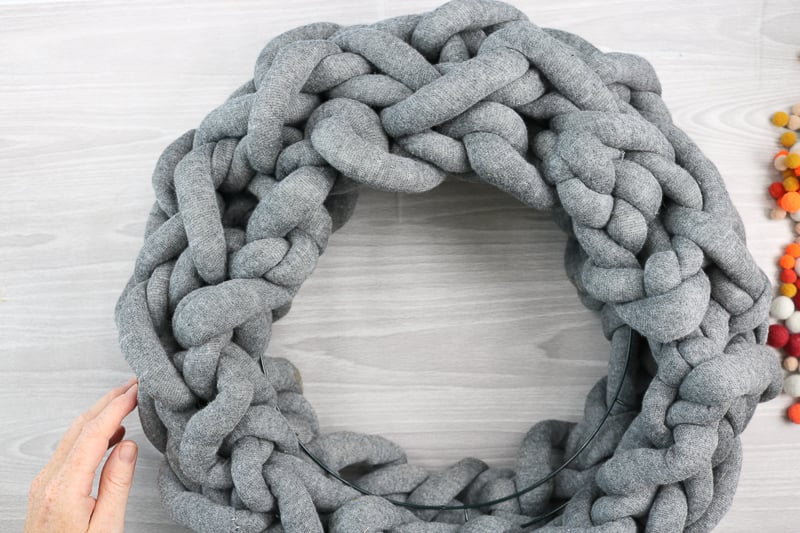 You did it! You learned arm knitting and you made a wreath. But how do you make it into a DIY fall wreath? Well, we just need a few more supplies.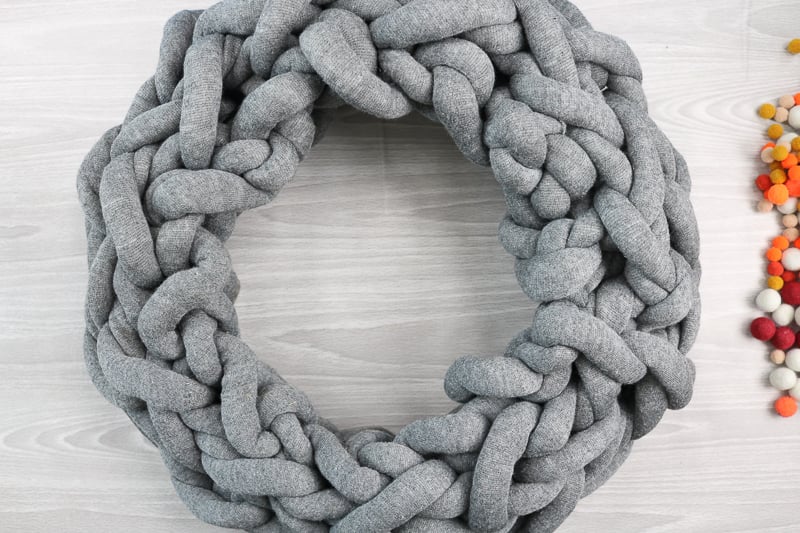 First, tie a bow to hang your wreath from out of the burlap ribbon.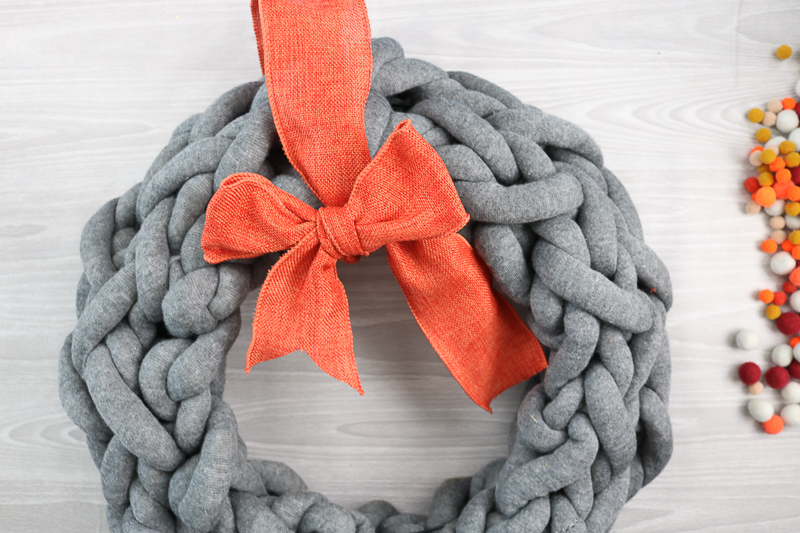 Then use hot glue to secure pom poms or wool balls in various colors all over your wreath.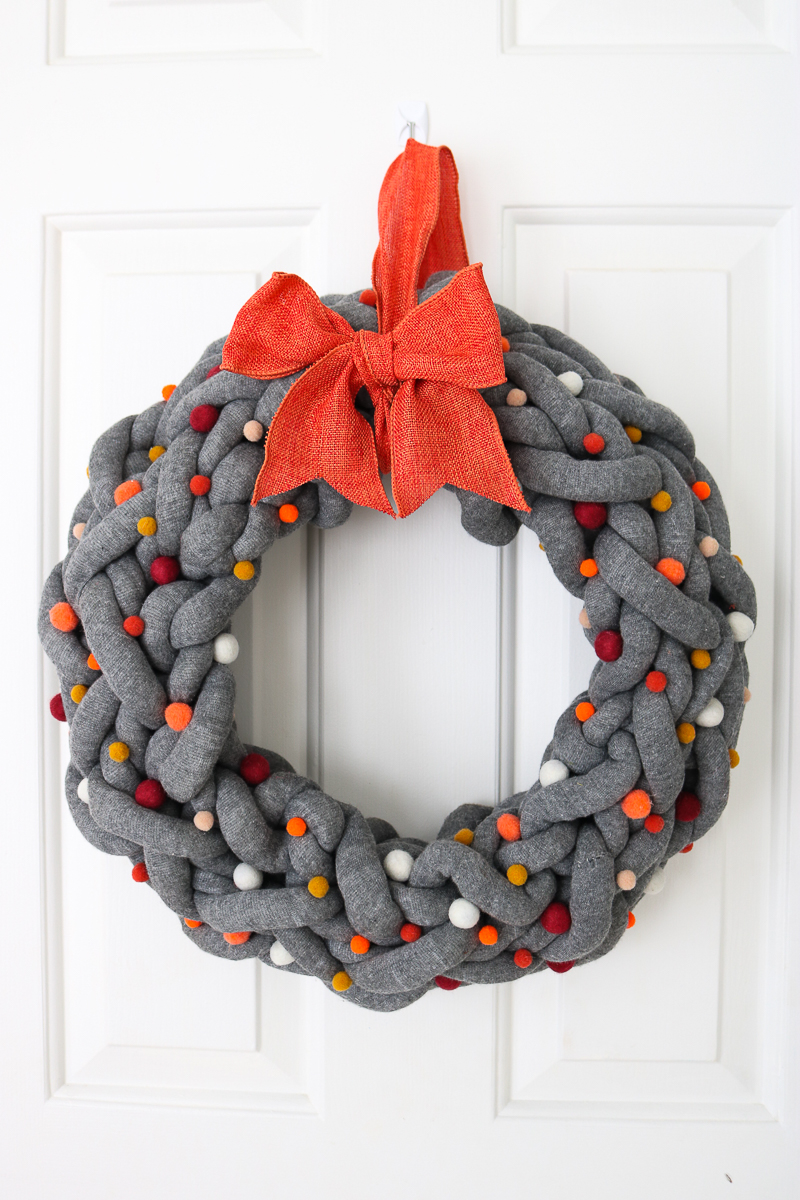 Then let your arm knit wreath welcome your Thanksgiving guests! They are going to love this unique twist on a traditional wreath.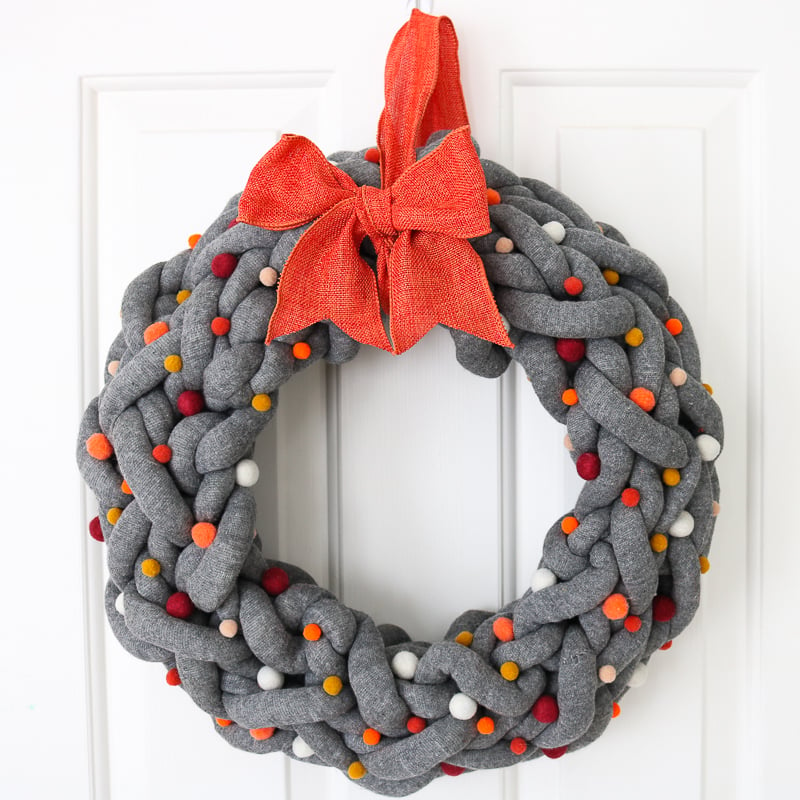 You are going to love saying you made this DIY fall wreath all by yourself! Now, wasn't that easy?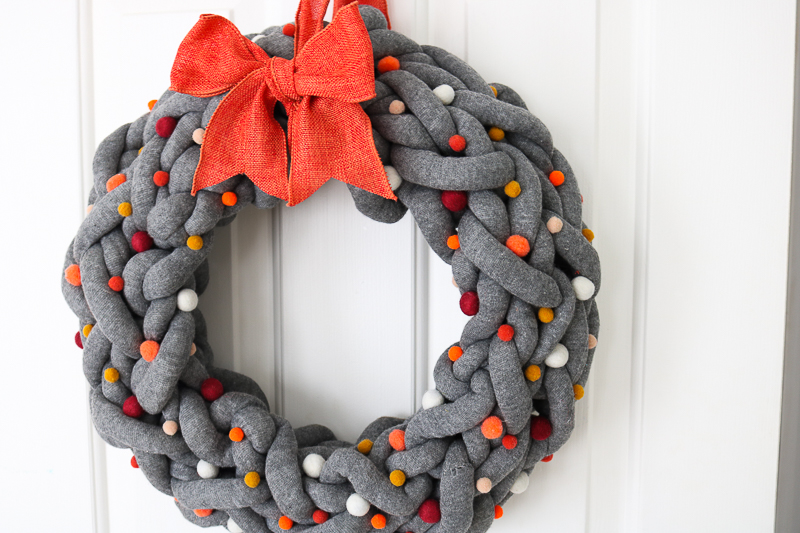 So, do you love this fall wreath idea and want more? Try the links below as well!
Get Our Weekly Newsletter
[ad_2]

Source link